Chairman Message

| | |
| --- | --- |
| SERVICE | |

| | |
| --- | --- |
| Pipelines | |

Gas Pipeline
DCI Water Pipelines
Process Plant
Consultancy
Equipment
Engineering Services
Infrastructure Services
Plant And Facility Management
Power Plant

| | |
| --- | --- |
| PROJECT LIST | |

Major Project List
On Going Projects
All Project List
Dipon Policies
Health And Safety
Career at Dipon
Community Work
Mission
To provide end to end solution in gas pipeline construction works with state-of-the-art project management techniques and innovations.
To utilize our expertise of pipeline construction and associated works in diversifying our activities to various types of construction works.
Vision
To establish a notable presence in Asian markets through well-conceived marketing strategies, meticulous planning and execution of projects and by opening up new vistas in core sectors.
To continuously upgrade our technical expertise through development of manpower skills, professionalism and implementing latest technology, and to enhance the equipment base to establish a classic work culture as an example for the construction industry.
The Pioneer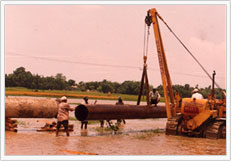 History of Dipon Gas is the history of pipeline construction in Bangladesh, spanning over three decades. It was then Pakistan Gas Limited. At its headquarters in Dhaka, in 1968, a young professional named Mahmud Hasan found himself involved in a major pipeline transmission work, then being implemented in collaboration with a British company – M/S United Kingdom Construction Company Ltd. That was his beginning. In 1970, he left the security of a staterun entity to start up his own business.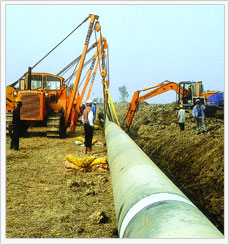 Dipon first struck deal with Titas Gas Transmission and Distribution way back in 1970. In the many years that followed, the company has done a series of projects with Titas and other state-owned companies -- all in pipeline construction and other specialized engineering and construction activities. Today, an impressive list of clients also includes major international companies that have worked in Bangladesh – Chevron, Unocal, Niko, Cairn Energy, Brown and Roots, BJ Services, Spie Capag, McConnell Dowel, T&T SpA, Skoda and Samwhan etc.